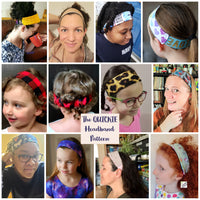 The ONLY Headband pattern you'll ever need!
Packed with loads of sizing and fabric options, this awesome scrapbuster is wildly versatile and highly addictive!
#makemeaquickie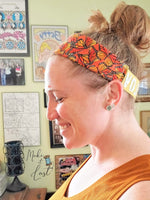 Only have Quilting Cottons in your stash?
Who needs knits with this awesomely versatile pattern?! With sizing for knit fabrics AND woven fabrics, you can use any fabric your fabulous sewist heart desires!
#makemeaquickie
Make one to match every outfit!
Isn't our secret dream to make all the super matching outfits for our littles and ourselves?! Well no matter what fabric you use for your fab custom outfits, now you can make a headband to perfectly accessorize! Look at this beautiful set by Geneviève!
#makemeaquickie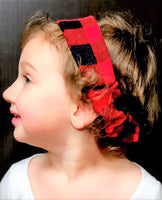 Plain elastic? No problem!
With instructions to cover your boring old elastic, you can make this cute scrunchy look, with option to do a flat elastic cover look as well!
#makemeaquickie
Express Yourself!
Use your headband to send them a message! How awesome is it that we can be socially active with our custom fabrics?
This fabric is by Emerald Curtain Fabric and is a personal fave! Check out my friend Pamela's amazing shop: https://emeraldcurtainfabric.com/
#makemeaquickie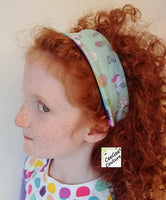 Tame that wild and beautiful hair!
The Quickie is the perfect hair accessory to show off your fave fabrics while keeping that bold and beautiful hair out of your gorgeous face! Now everyone can see your awesome custom fabric and your pretty peepers! Thanks CeeGee Couture!
#makemeaquickie
Quickies for Everyone!!
From Teacher's Gifts to Stocking Stuffers for the whole fam, this Headband pattern is super cute, super quick, and with only a little bit of fabric and time needed, it's ideal for fitting into your SUPER busy sewing and adulting schedule!! Thanks for this beautiful pic Katie! https://www.facebook.com/bumbleandgrizzly/
BONUS gift idea! Make a special Cufflet and fit a matching headband inside for an AWESOME gift set!
#makemeaquickie
#cuffletlife